If you are like a lot of homeowner's who are looking for the perfect pressure washer for your home that can handle the jobs you have, you have probably been struck by the appearance and price of the Powerworks 51102 pressure washer.
Where most pressure washers are tall, this one is flatter – more like a push mower. It has some features others in its class don't have – like dual tanks and hook and loop cord storage. Oh yes, it also has one of the highest ratings on Amazon. People like the 51102 not just because it looks different, they like the choice of features Powerworks has included that really make a difference in the work you can get done.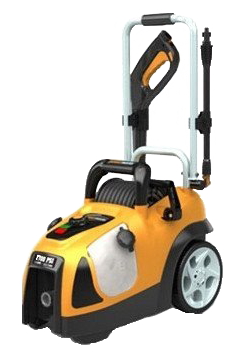 Get additional details about this product and buy now on amazon.com
Dual soap tanks
Most electric pressure washers will talk about their soap tanks, and then their customers will talk about how the tank is too small, or so big the machine is out of balance. Powerworks came up with the perfect solution by designing the 51102 with a set of dual tanks. This lets the center of gravity of the unit stay low, increasing its stability while moving.
It also means you always have enough to do the job that needs to get done. The dual tanks operate on an automatic feeder principle so you don't have to stop working to switch tanks if one runs out, but you can also adjust the soap ration in each so your first tank runs through on a blast clean, with the second following with a steady clean and wash as well.
Looks do count
One of the first things that you notice about the Powerworks 51102 is that it looks very different from the other prosumer washers on the market. It is designed with a full cowl cover that is two-toned and striking in design. The thing is, it doesn't just make the 51102 look good, it is essential to how well the unit operates. Beneath the cowl, the electronics and engine are protected on their mounts from water and vibration.
The two soap tanks are also built in and protected by the full cowl. In other words, the yellow and black cowl isn't about making the unit look fancy, it's about giving its working parts added protection. Think about how many times a tank has gotten punctured or a feeder hose disconnected because it caught on something and you will see the simple logic behind adding a cowl. It really makes you wonder why so many of the prosumer models don't use them, but it goes miles towards explaining why the 51102 has quickly become so popular.
Features and Specifications of AR Blue Clean AR240
The Powerworks 51102 has everything you want in a prosumer pressure washer. The model includes:
Induction motor
35-ft GFCI power cord
Hook and loop strap power cord storage
1,700 PSI and 1.4 GPM
25-ft high pressure hose
Two built-in soap tanks
Plastic spray gun
Quick-connect wand
Full engine cover
Solid wheels
Ergonomic handle
Powerworks also offers a limited warranty on their models, so you are covered from end to end. The solid wheels are reliable and won't leave you stranded when out doing the work you need to get done too.
Get more details and buy now on Amazon.com with 33% discount.
Customer Reviews and Scores
As of writing this review, there are 169 reviews on Amazon that give the Powerworks 51102 a solid 4 out of 5 rating. Customers are almost evenly split between awarding the unit 5 stars, and giving it 4. There are a few that just had such bad luck with delivery that a bad review is understandable, but the majority of people loved the unit and were impressed by what it can do. There is one consistent problem with the unit that kept it back from a 5 star rating, it's small but good to know about.
The Powerworks 51102 power washer is able to work with so many different, and third party attachments because it relies on hose washers, rather than connecting attachments. This means that if you aren't used to keeping track of the washers, you are going to lose them quickly. It is a good idea to order an extra set of this universal, and very inexpensive, item until you get used to the breakdown and storage of the washers as part of the way the machine functions.
Click here to read the customer reviews in details.
The Powerworks 51102 pressure washer is a relatively new offering from a company known for quality products. This is a higher powered electric pressure washer than their previous models and people are eating it up. The issue of the hose washers is easily resolved, and it actually lets you use more accessories with the 51102 than before. All in all, this model is a winner if you are looking for an affordable prosumer electric pressure washer that can really deliver.