Keeping a clean home is not a difficult task; however, it can become overwhelming when things get out of control. In many homes nowadays, both adults are working, they have social engagements after work, children, sports, and classes.
The truth is our lives are busy and it is hard to keep up on the house cleaning all of the time. The best way to keep a clean home is to do a little bit each day.
Just 15 minutes in the morning and evening each day can help to keep your home clean and organized.
Below, you will find many house cleaning tips and tricks. Try doing a few things each day and you will have a perfectly clean home in just a few short weeks. Continue doing the small tasks each day to maintain your home and always be prepared for visitors.
Quick Summary of this content: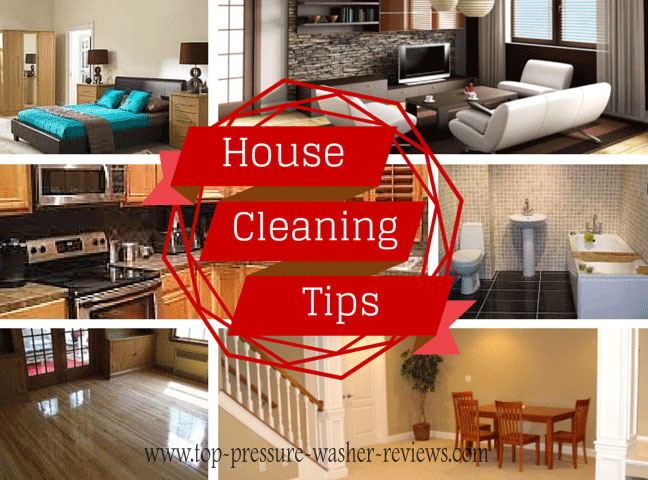 House Cleaning Tips for Keeping the Interior of your Home Clean and De-Cluttered
The following house cleaning tips, will address how to lean in each interior room of your home. Some rooms will not take more than 15 minutes to complete. Others may take longer. Some days you may only feel like working for 15 minutes twice a day and other days you will be more ambitious. No matter what is going on, it is important that you make time for cleaning your home every single day. These house cleaning lists should serve as a guide to cleaning and maintaining your home.

Bedroom
Pick up any stray items from the floor and place them on your bed.
Sort through the items and put them away in the proper place.
Collect any laundry and take it to the laundry room.
While you are in the laundry room, start the washer and put in a load of laundry.
Grab a dusting cloth on the way back to the bedroom.
Dust all of the surfaces in your bedroom.
Make sure to get the dresser, bed posts, window sills, fan blades, night stands, television, and any other furniture that you may have.
Bedroom Dusting Tips
Use a bendable duster with a long handle to reach ceiling fan blades and above the window sill.
A mop is helpful for gathering dust on the walls. A dust mop works especially well.
Vents can collect large amounts of dust. Used a vacuum cleaner hose to remove dust and cobwebs from vents.
You can find more bedroom dusting tips here.
Once you have dusted, remove your bedding and replace it with fresh clean bedding.
How to Make Your Bedding Smell Fresh and Clean
Launder your sheets and blankets often.
Use a laundry soap that has a pleasant smell.
Add extra fabric softener to your sheets.
Spray Febreeze on your mattress and pillows. Check here also how to clean a mattress.
Place your pillows in direct sunlight to eliminate odors.
Wash your bedding often.
Allow your sheets to air out before making the bed in the morning.
Take the time to vacuum.
Use a nicely scented baking soda based vacuum powder on your carpet to create a nice aroma.
For more tips to keep your mattress and bed smelling fresh check out this site.
Bathroom
Remove any nonessential items from your bathroom and put them away.
Store Hair products, lotions, deodorants, extra soaps and razors in cupboards.
Once you have cleared the surfaces in your bathroom, you can use a lysol wipe to wipe them.
If your bathroom is heavily soiled, you will want to use a cleaning spray and a sponge.


The Best Bathroom Cleaning Sprays:

Squirt toilet bowl cleaner into the toilet bowl making sure to cover the entire bowl.
Scrub the toilet bowl with a long-handled brush.
If there is a lot of build up in your toilet, allow the cleaner to sit in your toilet without flushing for about 30 minutes. When you come back scrub it again and flush.
Spray the shower and scrub the walls, handles, and spout with a sponge or stiff brush.


Tips for Cleaning Showers

Use bleach water to get rid of soap scum and mildew.
Use an old tooth brush to scrub corners and shower door tracks.
Use liquid car wax when finished to prevent further build up.
Find more Shower Cleaning tips here.

Mop the Floors
You can also read 5 Dangerous Bathroom Germs – You Should Know
Kitchen Cleaning Tips and Tricks
Wash the dishes and take the trash out every day.
Sweep around the table after dinner (this is a good chore for a 9-13 year old child).
Remove juice and coffee stains from counter with hydrogen peroxide.
Use the self cleaning feature on your oven approximately every three months.
Check out this site for more kitchen cleaning secrets.
Also read 7 Deadly Germs of Kitchen (Infographic)
Living Room
Use a laundry basket to gather items that do not belong in the living room.
Put the items away, do not just toss them into other rooms.
Dust your furniture, fans, and windows.
Use a product like Windex to clean windows.
Window Cleaning Tips

Wash each side of the window using strokes in different directions.
Clean Windows on a cloudy day. Sunlight Dries cleaning product too quickly.
Polish windows with newspaper.
For more window cleaning tips, check out this site.
Basement Cleaning Tips
Clear cobwebs with an old broom.
Sweep up cement floors and use an hose to spray them clean ONLY if you you have a basement drain.
If you have carpet in your basement be sure to vacuum.
Treat concrete floors with bleach powder.
Find more helpful basement cleaning tips here.
Floor
Carpet
Vacuum often to prevent build up.
Use a carpet shampooer at least twice a year.
Baking Soda Powder can freshen carpet and get rid of odor.
Use a spot cleaner to get rid of stains and discoloration.
Hardwood
Use a dust mop daily to remove dirt, dust and pet hair.
Mop with a damp mop and Murphy's Oil Soap once a week.
Finish with a wax for hardwood to prevent scratches and damage.
Linoleum and Vinyl
Use a dry microfiber mop to remove dirt.
Sweep using a broom and dustpan often.
Mop with Pin-Sol or vinegar water.
Find more floor cleaning tips on this site.
Furniture
Polish furniture with furniture polish and a dust cloth.
Use a Vacuum cleaner to remove dirt and crumbs from under couch cushions. Read here detail how to clean furniture effectively
Use a steam cleaner to clean upholstered furniture.
Mistakes to Avoid
Never use bleach on carpet or upholstery.
Never rub a spill. This just spreads the stain further. Before scrubbing, blot up as much of the stain as you can with a cloth or paper towel and then treat.
Do not use furniture polish every time you dust. This causes build up on your furniture. Dust with a soft cloth and use polish sparingly.
For more tips on what to avoid when cleaning visit this site.
Cleaning Tools and How to Care for Them
Mop
Thoroughly ring your mop out and store it upside down when not in use.
Bucket
Make sure to rinse your bucket well and dry to prevent build up.
Broom
Pull hair and dust out of the broom regularly and dispose of it in the trash can.
Cleaning Cloths
Use old cut up towels or t-shirts if you want to be frugal. Launder after each use.
Chlorine Bleach
Store in a safe place out of reach of children and pets.
Hydrogen Peroxide
Store in a safe place out of reach of children and pets.
Furniture Polish
Store in a safe place out of reach of children and pets. Aerosol cans should be stored in a place that is cool and dry.
Sponge
Ring out and allow to dry after each use. Launder if necessary or place in the dishwasher for cleaning.
Stiff Brush
Rinse well and remove any hairs from the brush. Store in a dry place to prevent mildew.
Long Handled Toilet Brush
Bleach and rinse after using on a dirty toilet. Store in proper receptacle.
Window Cleaner
Always store in a safe location away from children and pets.
Personal Safety Tips
Always wear rubber gloves when cleaning with hot water or cleaning products to protect your hands.
Always wear a protective mask when using harsh chemicals to clean.
Be mindful of wet floors to prevent slips and falls.
Empty water buckets right away to keep children from drinking or playing in the water.
Find more personal safety tips here.
Tips for Exterior Cleaning
Garage:
Remove unwanted items and donate or give away.
Use small containers to organize nuts, bolts, screws and other small items.
Use Ceiling Hooks to hand large items such as bicycles that take up valuable floor space.
Group similar items together on shelves and wall hooks.
Check out this site for more valuable garage cleaning tips.
Vinyl Siding
Use a hose or pressure washer to loosen dirt and debris.
Scrub with bleach water or hydrogen peroxide to remove mold and mildew.
Murphy's Oil Soap can be used on Vinyl siding to remove sticky residue.
Use Soap Pads to remove paint splatter.
Vinegar and water is a nice natural alternative to harsh chemicals for siding.
Check out this site for more vinyl siding cleaning tips.
Fence
Maintain weeds and brush around fence to help keep it clean.
If you have a wood, vinyl, or metal fence, you can use a presser washer to clean it.
Treat and stain wood fences yearly to keep them looking nice and new.
Mulch around fence posts to keep weeds at bay.
Lawn
Regular lawn maintenance keeps your home looking great and increases the value of your home.
Mow your lawn weekly or as necessary
Keep lawn watered when the weather is hot and dry.
Treat your lawn each year for grubs and weeds.
Replant grass seed in areas that are bare.
Find more great lawn care tips here.
Rake Leaves on a Regular basis and burn them or set them out for trash collection.
Driveway
Sweep and spray debris from your driveway regularly.
Clean up oil and grease from vehicles right away.
Cat litter is great for absorbing oil.
Use a pressure washer to remove stains from driveways.
Solvent is great for removing paint, but could be harmful to pets and plants.
Simple Green is a fantastic product for drive way cleaning. You can find more information about simple green and tips to clean your driveway at this site.
Maintaining your homes roof will make it last for many years
A roof that appears clean will enhance the overall appearance of your home.
Hot water, bleach and detergent are excellent roof cleaning aids.
Clean your roof on a cool cloudy day to prevent your mixture from drying to fast.
For step by step instructions on how to clean your roof.
Roof
Maintaining your homes roof will make it last for many years
A roof that appears clean will enhance the overall appearance of your home.
Hot water, bleach and detergent are excellent roof cleaning aids.
Clean your roof on a cool cloudy day to prevent your mixture from drying to fast.
For step by step instructions on how to clean your roof, click here.
Gutter
Use a ladder to reach your gutters and remove any leaves or debris that may be clogging them.
Use soap, bleach and a stiff brush to scrub stains on gutters
Keep branches from trees and shrubs trimmed and away from gutters.
Use a hose or pressure washer to spray gutters clean.
Invest in gutter guards to keep leave from clogging the gutters.
Mistakes to Avoid
Do not store chemicals in a place where children or pets can access them.
Put ladders away after each use to prevent children from climbing on them and falling.
Test cleaners in an inconspicuous area before using them on your siding, driveway or roof.
Do not try to clean up sticky residue with water. It will just make it worse. Oil based products are better for cleaning sticky residue.
Tools Needed and How to Care for Them
Rake
Store in a corner of the garage or shelf or on the wall. Never leave it laying down to prevent injury.
Lawn Mower
Check gas and oil levels regularly.
Make sure nuts and bolts are tight.
Sharpen blades Yearly
Keep away from children.
Inspect air filter often.
For more Lawn mower maintenance tips click here.
Pressure Washer
Drain hoses after each use.
Clean out unused detergent.
Store in a dry place away from rain, cold and snow.
Hose
Wrap hose after each use and place on hose reel.
Drain hose in the winter time to prevent freezing.
Outdoor Detergent
Store in a safe place away from children and pets.
Chlorine Bleach
Store in a safe place away from children and pets.
Trimming Tools
Sharpen blades often.
Keep in a dry Place
Keep out of reach of children.
Shovel
Never leave your shovel laying down in the yard or garage.
Place shovel upright to prevent injury
Personal Safety Tips:
Wear protective gloves when your hands could be injured (trimming, mowing, hot water)
Wear a mask when dealing with harsh chemicals
Keep hands and other body parts away from blades of mower.
Use caution with trimming trees and bushes.
Wear protective eye glasses to shield eyes from the sun and debris.
In conclusion
House cleaning is a big job, but when broken down into many smaller tasks it is manageable. Always remember these three things.
Take at least 15 minutes morning and night to help maintain your home.
Complete large jobs, such as basement cleaning and yard work as a family.
Keeping an organized home makes life less stressful!
We hope that these housecleaning tips were helpful to you.