The Campbell Hausfeld PW1825 is a prosumer electric power washer that can change how you keep your home and vehicles in shape. It weighs in at 25 pounds and is designed to deliver on its promise. Considering that it is priced under $120, there is no small wonder that it is getting such attention. Buyers are discovering that the PW1825 pressure washer has a lot of features that other washers don't offer. There is a warranty, swivel hook ups and more to be had.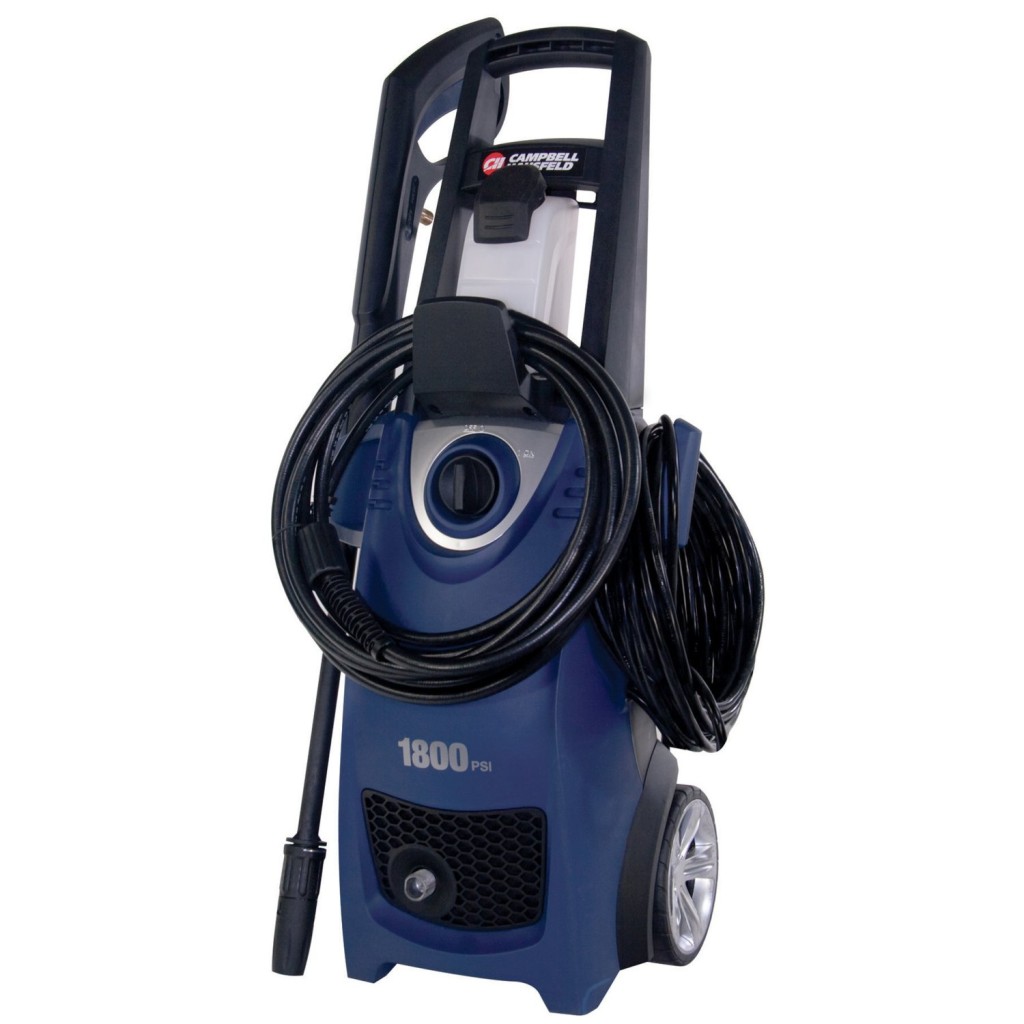 Get additional details about this product and buy now on amazon.com
The Turbo Lance and Liter Soap Tank make this the pick
There is a lot to point out that is great about the PW1825 but the ones that stand out are the ones in your hand. The PW1825 comes with a regular lance, and a turbo lance. The turbo lance applies more drive behind your fan and jet to clean any surface. The on-board soap tank is one liter in size. That is huge. Most of the other pressure washers in this class only have bottle that are a few ounces in size.  If you want to get it all done in one shot, this is the tank that will help you do it. The real beauty of all of this capability lies in the way the storage features have been designed to allow you to use the power of the lance and soap supply.
But the, there is one feature that really beats them all
The Campbell Hausfeld has the power to get your cleaning done – but what does that look like? It looks like a lot of hoses and cords, and this is where the design of the PW1825 really stands out. They have incorporated two different hose/cord holders – one to the front and one to the side. The holders are big enough to have been designed by someone who has actually coiled a hose before, not a small clip. These features should set the standard for all other pressure washers.
Features and Specifications of Campbell Hausfeld PW1825 pressure washer
Electric pressure washers tend to all come with a standard pack of features and specifications, but the Campbell Hausfeld PW1825 has more of them put together in one package, including some that will are usually only found as an additional purchase package. With the PW1825, you get everything for one price in this unit. It has:
1800 PSI and 1.5 GPM pump
120-Volt, 14-Amp universal motor
Instant start/stop feature
Swivel adapter for hoses
On-board 1-liter detergent tank
20-Foot high pressure hose
Spray gun
Adjustable fan lance
Turbo lance
35-foot GFCI-equipped power cord
On-board attachment storage
Front and side hose/cord storage
Pay attention to that list and you will also start to understand why the customer reviews and scores for this model is so favorable. The big feature everyone raves about is the storage capacity of the unit that was discussed earlier. If you compare the features list to any other electric pressure washer you can see that is was a feature included as a response to complaints about other pressure washers.
Get more details and buy now on Amazon.com with 42% discount.
Customer Reviews and Scores
The PW1823 pressure washer has been out on the market for a while, and it has garnered over 313 reviews on Amazon. The average rating people are giving the unit a solid 4 stars out of 5. This is a good sign with any product. If you look towards the 4 star range of the view, you get the most balanced reporting on the PW1825's performance. People who rated it lower than 4 had issues with shipping, and there weren't a lot of those anyway. The follow up reports on how the issue was resolved scores positively in the favor of Campbell Hausfeld's customer service.
The weak point of the unit is the swivel hose attachment. This is a standard attachment for pressure washers and in all honesty, it is not a surprise that the one included with the PW1825 isn't all that good. Hose attachments cost about $2 to replace with a top of the line attachment. If you order one at the same time you don't even have to bother with finding out if the one included with your pressure washer is going to work. That is a tip you should apply to any power washer purchase as the problem is universal.
Click here to read the customer reviews in details.
The Campbell Hausfeld PW1825 pressure washer is as close as it gets to getting it right. If the only complaint you can come up with it is it might have an off hose adapter, then you know you have found a good buy. For about $115, you can get an electric power washer that can really handle your jobs. It's got the design, the power and a company behind it that takes care of their customers.