AR Blue Clean has a stellar reputation for producing prosumer and consumer electric pressure washers. Their recently released AR240 bridges the gap between prosumer and consumer models, putting pressure washer power into the hands of everyone. It is priced right, is easy to use, and it is getting some high consumer ratings right out of the gate. There is a lot to look at in this model; the first thing to consider is why it looks so different from other electric pressure washers out there.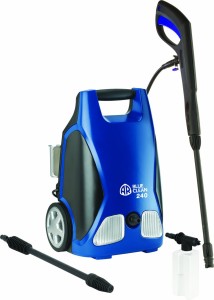 Get additional details about this product and buy now on amazon.com
Split model design is a winner
Most of the electric pressure washers in this class come in an upright style design. The AR Blue Clean AR240 breaks out of that mold and delivers a new way of using your pressure washer. It is a split unit model, with the tanks and power being designed for an upright or horizontal position. The pressure hose and wand gun then come off of that, much like a split model vacuum cleaner. There is a reason for this choice in design.
The ability to stand the tank and power unit upright, or place it in a horizontal position means that you have more options for creating stability with the model. If you have ever had your work interrupted because the unit got pulled over, then you know how important that is. The split design also makes the unit easier to maneuver. There are solid wheels incorporated into the body design that let you wheel it, and a close molded handle that makes lifting the unit easier.
Wobble mount pump plus wobble mount motor equals longer life
The big thing about the AR240 is what you won't see but depend on to get your cleaning jobs done. This model features an axial drive pump and inversion motor to deliver the power and pressure you need. Both of these features are mounted on wobble plates. With electric pressure washers in this class, it is typical for the pump to be wobble mounted, but not the engine. By mounting both, both are the most important parts of the model are additionally protected against vibration. This means that you will sail past the warranty and get the full life of use out of this device.
The pump and motor are made to be resistant to moisture and vibration. They include high quality stainless steel and precision machined parts. All of this adds together to extend the lifespan of the pump and motor. You will probably be replacing the items you are cleaning long before you are replacing the pump and motor on this model.
Features and Specifications of AR Blue Clean AR240
The AR240 includes all of the features that are included on all of the AR Blue Clean models that have helped make it one of the most popular brands of pressure cleaners. It also has some features unique to this model only.
3 axial-piston wobble plate pump
induction motor
gun-wand assembly
Adjustable spray head
Detergent tank
Water filter
Detergent injector kit
High pressure hose
Rotary nozzle
TSS standard/option feature
GFCI power cord
Automatic safety valve with low pressure by-pass
The AR Clue Clean AR240 is one of their newer models, but it shows that the company listens when customers rate their machines. This is why the feature list of this model is so complete. The total stop system is optional on this model, but it is recommended that you get it. The low pressure by pass is not optional, and you will love that it is there.
Get more details and buy now on Amazon.com with 18% discount.
Customer Reviews and Scores
For a new model, the AR240 has already gotten 103 reviews and a 4.1 out of 5 star rating on Amazon. The reviews are almost evenly split between the 5 and 4 star range. Some people didn't know what an electric pressure washer was and had issue when the product arrived, but overall customers were very satisfied. As with all new products, even from reputable companies like AR Blue Clean, there is always room for improvement.
People had a bit of a learning curve with the split design of the model. It is shaped more like a horizontal vacuum cleaner than the typical upright pressure washer. There is a learning curve with it, but in the end the overall opinion is it is a better design than the upright style. The low tank base gives it more stability, and separating out the hose and trigger rig lets you really get to it without knocking the washer over.
Click here to read the customer reviews in details.
The AR Blue Clean AR240 makes being different the perfect solution. With a new design for their model line that puts functionality at the top of the list, their usual features and some powerful new ones – this is the ideal prosumer electric pressure washer. Costing less than $150 and weighing less than 15 pounds, the AR240 puts professional power in everyone's hands.