The AR Blue Clean AR142 is winning fans from those who need a powerful pressure washer in a truly portable form. The AR142 packs a 1600 psi pump system into a machine that weighs less than 13 pounds. It is designed and styled for home use. It even comes with quick connect hose connectors that are meant for plugging into a garden hose. This could be the machine that makes you a fan of keeping your house clean the power wash way.
Get additional details about this product and buy now on amazon.com
The AR Blue Clean AR142 pump is the real selling point
It doesn't matter how much a pressure washer can handle per minute, or how many accessories it comes with, if the heart of the machine – the pump, isn't going to be up to the task. Featured in the AR Blue Clean is one of Italy's finest pump designs. Put out by Annovi Reverberi, the AR142 has an axial radial drive pump with 3 pistons made from stainless steel.
Stainless steel not only holds precision machining longer, but it is resistance to corrosion, making it the only choice for a pump that is exposed to water. The pump is then mounted on a wobble plate, and this is more important than you think. It is that wobble plate that helps to reduce the vibration impact of the pressure system on the pump so it delivers power pressure consistently, and for a long time without burning out.
The accessories you need (that do what you want)
Once you start looking at the exterior of the product, and the accessories that it comes with you begin to see why this machine is moving to the top of everyone's list. While many other spray cleaners have accessories, few have the accessories that anticipate how you are going to really use the machine. The choice to incorporate the trigger for their total stop system (TSS) in the pressure handle, but to put the pressure valve near the head is brilliant.
That means when it's triggered, the machine really stops. This is important when you consider that you not only have 20-feet of high pressure hose to deal with, but a quick connect that is sure to mean you will be running the cleaner from wherever you can reach a garden hose supply of water. With the TSS system, the whole machine will shut down and you won't have powered hoses to try and control.
The AR142 also gets bonus points for designing the spray lance to have two built in settings- fan and jet. Blue Clean designed accessories that can really be used, and built in choices that are the most commonly used to make cleaning even easier for you.
Features and Specifications
There are a lot of features included inside the AR142, and outside as accessories. AR Blue Clean built off their last moments to introduce some innovations and improvements on this model that make it work even better.
1600 psi, portable system
Durable axial radial- drive Annovi Reverberi 3-piston pump with wobble plate
Pump features stainless steel plungers
Automatic safety valve with shut-off at head
20-foot high pressure hose
Adjustable spray lance
Pencil and fan settings for jet spray
Foamer bottle
Power trigger safety
Quick connect adapter for hose feed
GFCI 34.5 inch power cord
CSA approved
1-year warranty
Get more details and buy now on Amazon.com with 14% discount.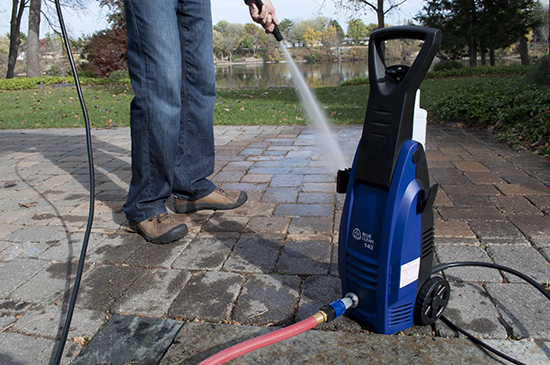 Customer Reviews and Scores of AR Blue Clean AR142 Pressure Washer
Even though this is one of the newer model releases from AR Blue Clean, it has already logged 91 reviews. The average rating customers give to the unit is 4 out of 5 stars. For a cleaner so new, it is scoring positively with buyers and word is getting out.
The AR Blue Clean AR142 is close to perfect, but there are some things about the machine that people didn't like. For some, the foamer bottle is too small, as is the attachment compartment. That issue is solved easily by changing your habits with using cleaner.
High pressured cleaners need very little cleaning agent to be effective. If you are used to a cleaner that hasn't worked well, or has a less powerful pump, you will tend to use more than you need to with the AR142. The same is true with the on-board accessory compartment, it could be bigger and have a better way to wrap the cord – but that would also add more weight to the overall unit.
Click here to read the customer reviews in details.
The AR Blue Clean AR142 offers to the homeowner a practical, efficient and affordable way to do pressure washing around the house. Every aspect of it – from the dual radial drive pump to the accessories included targets making homeowner cleaning efficient. At less than $150, and weighing in at just 12.5 pounds, this may be the ideal machine for you.